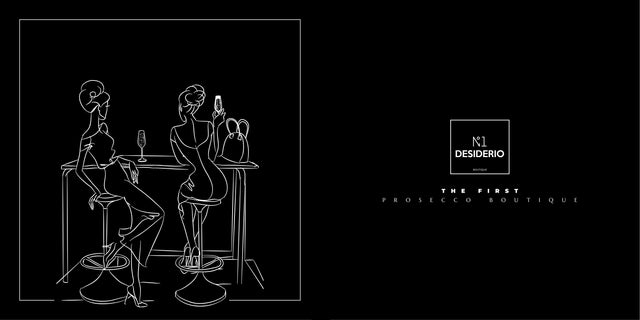 Welcome to DN°1 Prosecco Boutique, the first "Producer to Consumer" Speakeasy bar in Vienna.
Desiderio in Italian means Desire or Wish, and our boutique is where your wishes come true, here you will find our very own Prosecco and Spumante that we produce in Italy with passion and love, the same passion you will find in every glass of Desiderio N°1.
DN°1 is the place where you can unwind after a long workday, have an authentic "Italian Aperitivo", or simply have a couple of drinks while chatting with your friends.

If you are looking for something new and exciting to drink, or a fresh and relaxed atmosphere, well, you´ve come to the right place, our expert mixologists and our extensive menu will certainly fulfill your wishes.

We wish you a sparkling time here at DN°1 Prosecco Boutique and Salute!
DN°1 Menu
DESIDERIO ART SPACE
Delve into the Desiderio art space. We Bring the Art World to You. Desiderio builds the
bridge between the prosecco community and the community around the crypto art movement, cultivating new forms of identity,
culture, and exchange.
Fusing analog and digital positions in arts into a vibrant community, Desiderio gathers museums, galleries, avant-garde, and underground art spaces from all over the world! We choose our cyber-flaneurs to go freely from one experience to another, without missing out on an event, losing time, and hastily booking flights to attend one. No artist needs to transport single artworks around the world to be shown. - We do bring the art world to you!
DESIDERIO N°1 CHARITABLE TRUST
We know it's hard to chose your favorite bottle of Sparkling Wine, but in addition to purchasing a great Prosecco, have you ever thought if your purchase could benefit society too?
With Desiderio N°1 Charitable Foundation, we will donate 10% of your purchase to a charity fund of your choice. From Women empowerment, helping organisations to fight child labour, fighting climate change and many other initiatives, at Desiderio N°1 together with our community, we want to give back as much as we can.
Help us change the world One Bubble at a Time
Opening Soon Los Angeles | London
DN°1 Prosecco Boutique
Falkestraße 5, 1010 Vienna
Austria
Opening hours: 4pm - 10pm