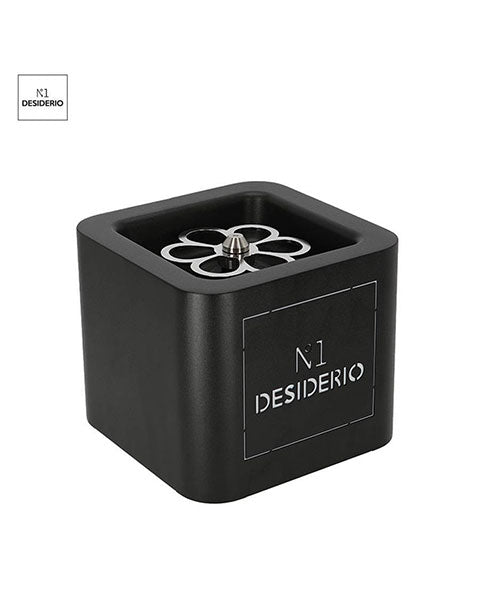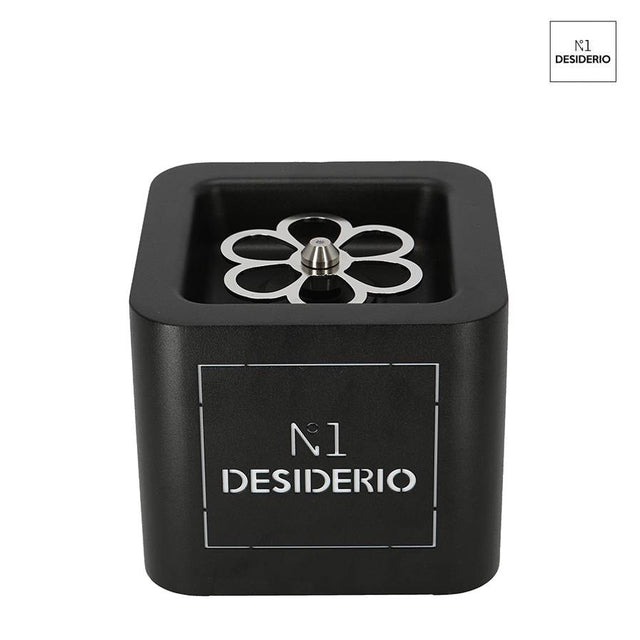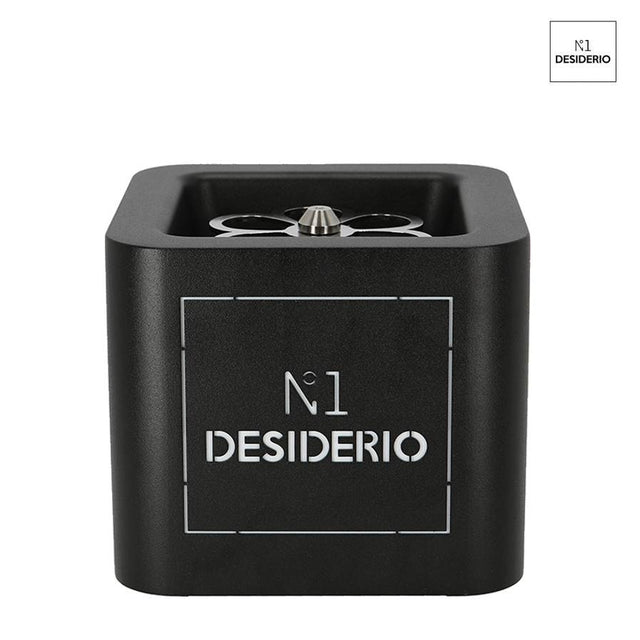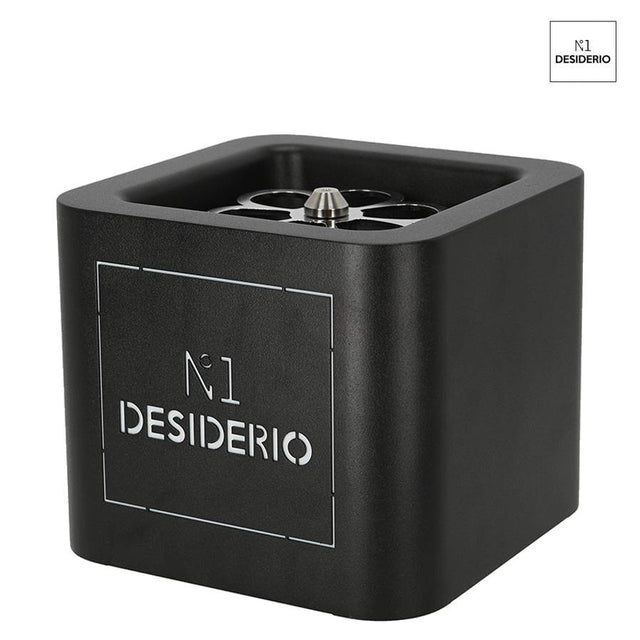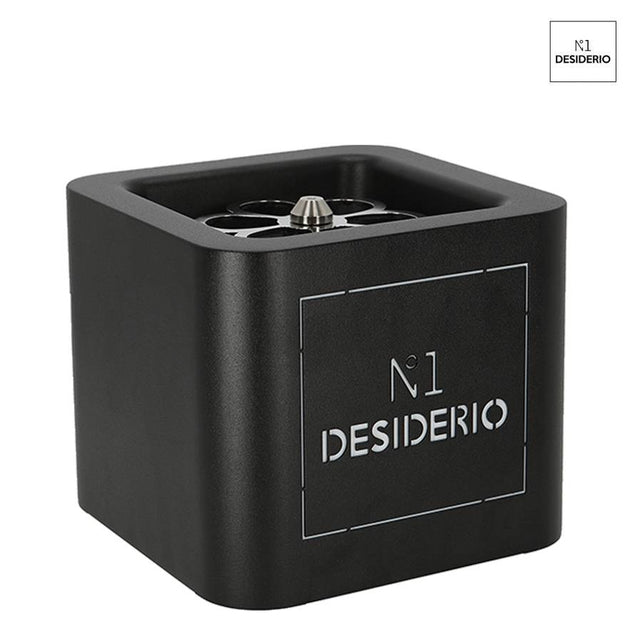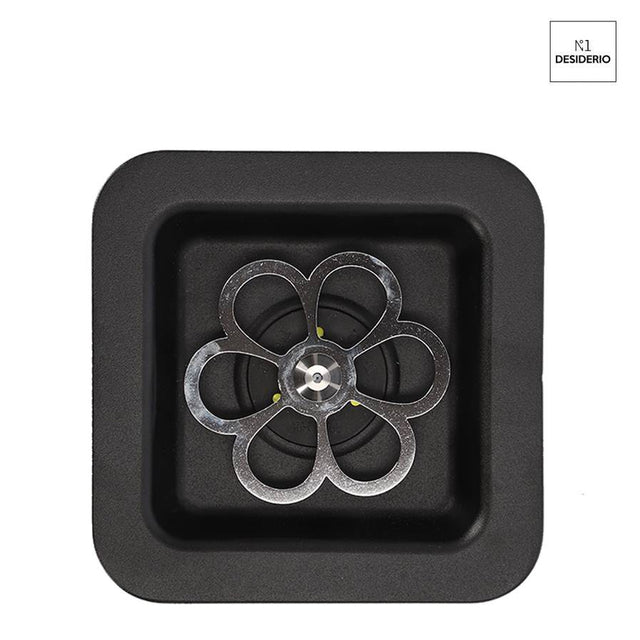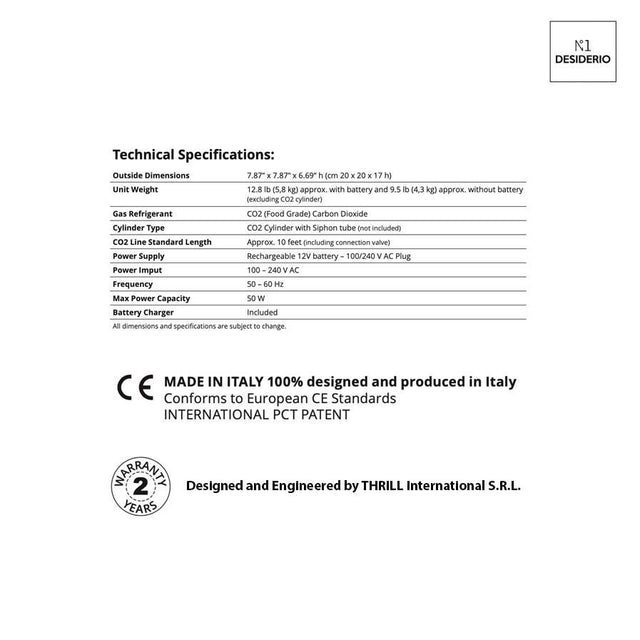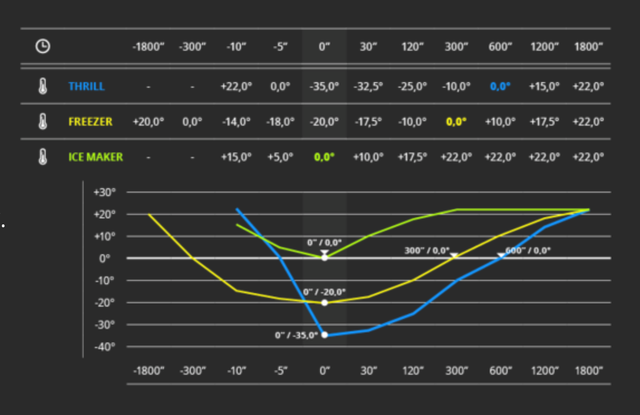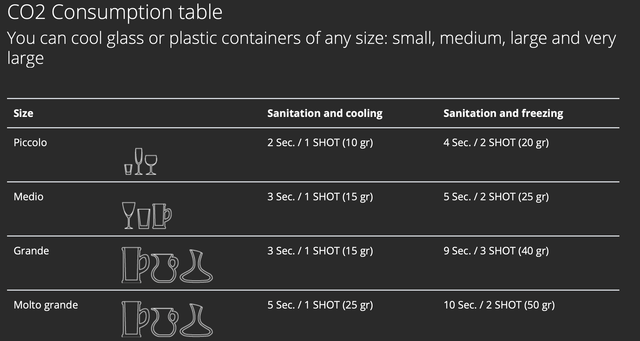 Desiderio N°1 Glass Chiller Limited Edition Vortex Cube
--
The ideal solution for sanitizing glasses thoroughly and chilling them instantly.
Treating glasses with the Vortex Cube machines, in addition to cooling the surface down to -35°C in a few second, has a sanitizing effect which allows to reduce up to 88% of the microbial load present on the surface. A unique approach to sanitization without slowing service, while controlling costs.
Designed and Engineered by THRILL International S.R.L.
Technical features
Find out the features that make our glasses chiller machines unique, designed and built for professional use.
CO2 consumption:
Consumption reduced by 50%
Our glass chiller consume only 5g per second of CO2: 50% less than our competitors.
Low CO2 consumption will reduce the maintenance costs of the glass chiller, increasing the autonomy of the tank and reducing CO2 emissions - they emit the same amount of pollution as human breath.

Anti-freeze patent
Thrill International glass chillers - 
F1 Pro
, 
Cube
, 
SBI 
- have a patented anti-freeze system. They can work continuously for several hours.
It is an original and unique Thrill International patent, able to meet the requirements of the food service industry.
-56°C in 10 seconds only
This graphic compares the 
most common glass cooling methods
 and measures their effects from 30 minutes before use up to 30 minutes after use.
We compared the three most used methods to cool glasses – Thrill International machines, freezers and ice-machines. As you can see, in just 10 seconds the Thrill International machines lower the glass temperature from 21° C to -35° C. Putting the glass in the freezer lower the glass temperature from 20° C to - 20° C in 30 minutes. Cooling the glass with ice lowers the glass temperature from 20° C to 0° C in ten seconds.
In short, Thrill International glass chillers quickly chill the glass to a lower temperature than other methods, keeping the glass temperature below 0° C for a good 10 minutes.


Rechargeable battery
Our machines are supplied as standard with a rechargeable 12V battery and with a charger suitable for international power supply standards.
High-capacity batteries can work continuously for 7 days without a power supply connection.
Electronics suitable for every weather condition
Thrill International products have an electronic system suitable for every weather condition. Electrical parts are sealed and made to resist all weather conditions: humidity, salt, sand, ice, snow and high temperatures.
You can use our machines outdoors in any weather condition.
Silent
Thrill International glass chillers are silent. There is no motor, air compressor or moving parts that can make noise.
The cooling system is based on a spray of CO2 that produces a soft whistle.
It is a delicate, pleasant sound that is not annoying and makes our machines also suitable for peaceful environments.
Surprise your customers
Thrill International glass chillers are eye-catching thanks to their wide LCD screen where you can display videos and pictures.
The condensing smoke that emerges during the chilling process combined with the soft whistle the machine makes, completes the unique experience of a Thrill International machine.
Single-handed
Our professional products can be operated with only one hand thanks to their special pressure-activated system.
Speed up the cocktail making process and shorten your customers waiting time while also offering them a high-quality beverage.
100% stainless steel
Thrill International machines are made from 100% stainless steel, a long-lasting material suitable for professional use.
Thanks to the durability of stainless steel we are able to design our glass chillers with pieces that can be easily removed and washed in the dishwasher.
2-year warranty
Thrill International products have a 2-year warranty covering manufacturing defects and ensuring safety and reliability: two key features for professional machines.